Qee figures to finally take their rightful place in history.
Posted on by Niklas
"We have shared the incommunicable experience of war. We felt, we still feel, the passion of life to its top. In our youths, our hearts were touched by fire." -Oliver Wendall Holmes
If you've seen what the urban art community is doing lately, you'll have noticed that it does not necessarily take a war for someone's heart to be touched by fire. Every day, incredible artists show us that their own hearts are smoldering with creativity and expression, which can be sparked by any one of countless passing moments or events. Imagine what will happen when 43 of them from around the world create a custom Qee relating to a theme as emotionally charged as the Civil War.
On July 6th, Spaghetti Project, in conjunction with Toy2R and Toy2R USA, will present "The Civil War and Our Founding Fathers" as part of Toy2R's 15th Anniversary Custom Qee Tour. Using 8″ DIY Qee figures as their platform, artists–their firey hearts ablaze on their sleeves–will create pieces pertaining to a profound event that shaped our nation's history.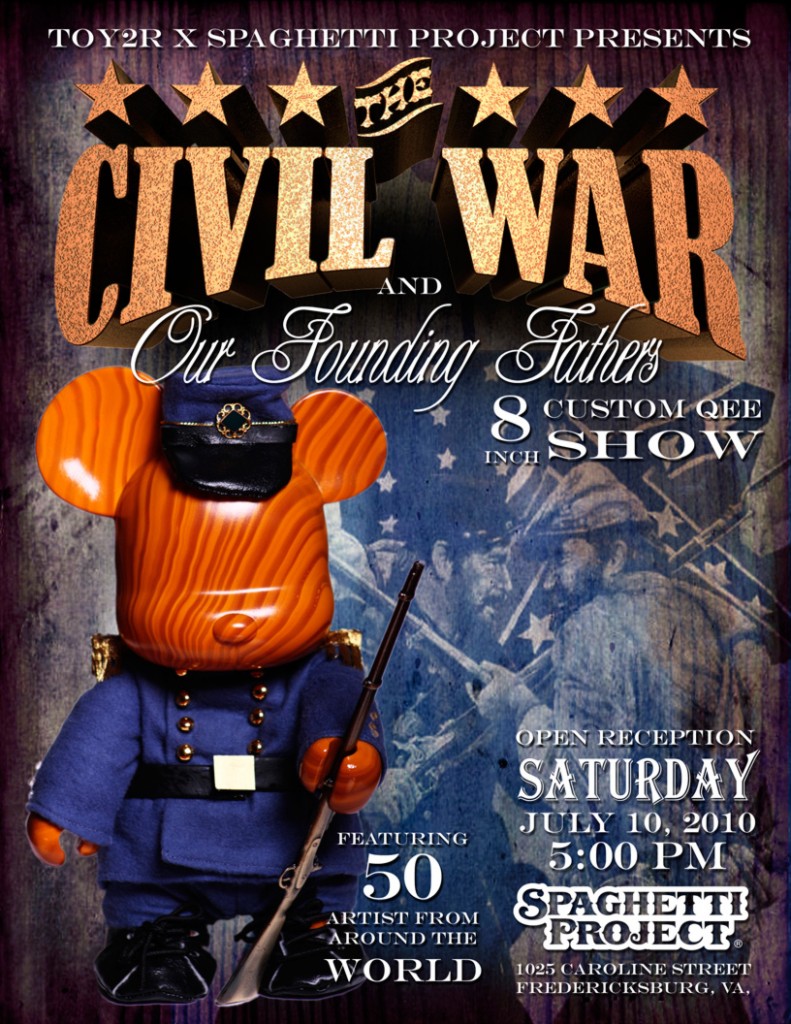 An auction will be held for these original, custom works, and Spaghetti Project will be donating a portion of the proceeds to a charity befitting their boldly-chosen theme. 20% will be given to Our Military Kids, an organization dedicated to ensuring that "the children of deployed and severely injured Reserve and National Guard personnel can afford to participate in activities such as youth sports, fine arts, and tutoring programs that are so important in their young lives during this stressful time".
Some of the artists will be in attendance of the opening reception, scheduled for Saturday, July 10th from 5-11pm. Join the Spaghetti Project for a sure-to-be-memorable evening at their shop location: 1025 Caroline Street in Fredericksburg, VA.
Featured Artists:
Cope2
Burn 353
Bryan Collins
Lou Pimental
Brent Nolasco
Joe Simko
Chris B. Murray
]Blokt[
Josh Taylor
Coreroc
Imani K. Brown
Travis Cain
Sergio Mancini
Tyler Coey
Task Oner
Valeri Gudell
Ian Ziobrowski
"Toy Factory (Sam De Buysscher)"
Slic is Nutz
Mike Die
Melody Llewellyn
OneEightyOne
Scott Sketo
OsiRisORion
Nasty Neil
WuzOne
Deb Yarrington
Jason Castillo
Lisa Rae Hansen
Jenna Anderson
Toni Hitchcock
Arijit Das
Cita Sadeli Chelove
MikEyG
Greg Crawford
B.A.L.D
A Little Stranger
Colin Mohnacs
RAMPAGE TOYS
Jeremy Simmonds
Brandon Hill
Peter Chang