QEE DESIGNER SERIES 6 IS ON THE WAY!
Posted on by Darren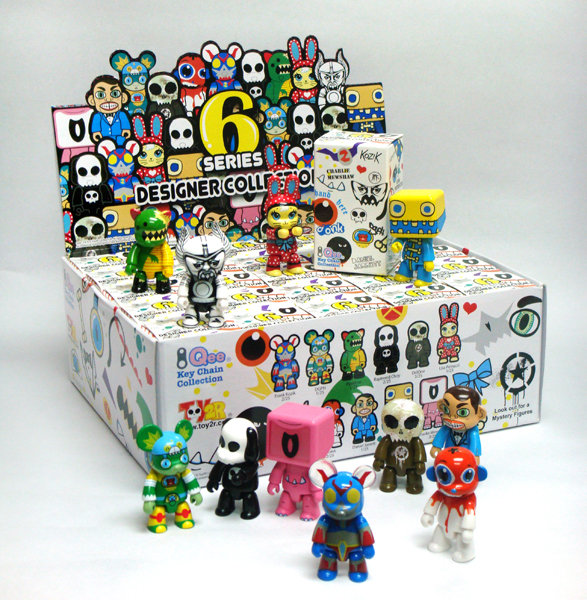 It's true!  The wait is almost over!  Nobody is more excited than our staff at Apex who will be doing their VERY best not to open up every one of them trying to find the elusive mystery pieces.  And speaking of mystery pieces, according to our sources at Toy2R central, this series has more mysteries than PeeWee's Playhouse.  Even APEX doesn't know what a few of them are!  At this point, we don't care because when they get here… IT'S CHRISTMAS TIME BABAY!!
Now just a word of caution… Apex has tried to reach out to everyone.  We've been spreading the good word about these for months and plenty of stores have their orders in but we knew there would be more so we brought in a ton of overstock.  With all the news lately though, the late orders have been coming in at a breakneck pace and it looks like our overstock is starting to run a bit thin so don't delay!  Contact us ASAP to reserve yours!
Scroll on down to our gallery to see a few of the KNOWN pieces and get your appetite wet for the surprise pieces.  The few we DO know about will knock you socks off.   And now, for the official story (as posted by Toy2R USA):
After much anticipation, Toy2R is proud to announce that the 2.5″ Qee Designer Collection, Series 6 is now shipping to accounts and distributors across the globe! Collectors attending the Taipei Toy Festival this Thursday will be in for a treat as Toy2R debuts the series at booth A54! News also has it that the series will be available at vendors during San Diego Comic Con, starting July 21st!
With original designs from artists across the globe, this series marks the re-launch of the art series that started it all. Look for designs from some of the best DIY customizers to top designers of original art toys in this collection; Frank Kozik's Toyer Z captured in Qee Bear form (is his nemesis, Toyer Enemy lurking about?), Cameron Tiede's Noctural Decay Boxee Qee, Saucernauts creator Charlie Mewshaw's Pinkeye Boxee, Lisa Petrucci's adorable Polka Dot Bunee Qee, classic Qee artist Doink and his Mon Qee(s?), DIY custom kings Jon-Paul Kaiser and DrilOne first production Qees (the Great Khan and Toyer Scout, respectively), original world tour submissions from Peskimo's Melee Cat and Daniel Jarrett's Ventriliquist Dummy, character creator extrodinaire DGPH and his Submariner Bear, plus Qee creator Raymond Choy's iconic Toyer designed Doggy Qee are all here, randomly packed.
But of course, that's not all! Toy2R has included some sweet variants and chase design surprises for collectors to hunt down. Each figure includes keychain attachment so you can carry your Qees everywhere or hook 'em to your backpack, purses, or whatever!
Join the Qeevolution today and start your collection with Series 6 – where Toy2R puts art in your hands!