Skelanimals Series 1: On Display at SDCC 2010
Posted on by Darren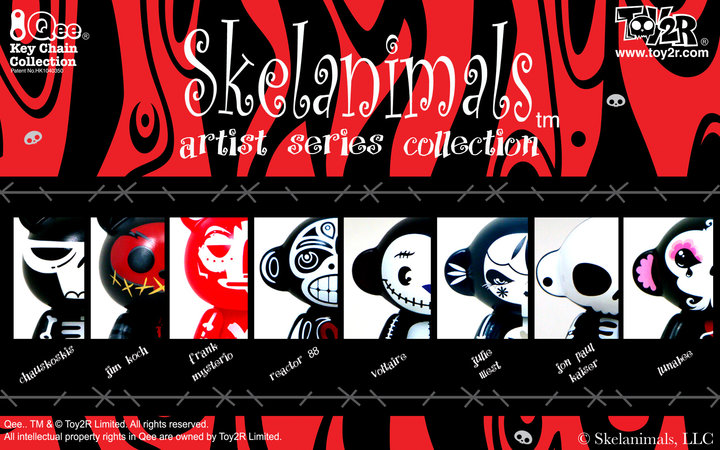 Just when collectors thought one artist series was enough, Toy2R proudly announces the debut of the Skelanimals Qee Artist Series Collection. Series 1 prototypes will be on display during SDCC through Skelanimals, booth #4513.
Check out the newest characters to join the Qee Universe (Chungkee & Marcy) in this unique collaborative series of one of the biggest global brands in the world, one of the original designer toy companies and 8 respected designer toy artists / customizers. This series will feature designs by Chauskoskis, Jim Koch, Frank Mysterio, Reactor 88, Voltaire, Julie West, Jon Paul Kaiser and Lunabee. Also included wil be traditional classic versions of the Skelanimals characters and of course, special chase figures all sporting a keychain attachment to make it easier to carry around everywhere.
The line launches with the GID Chungkee Qee exclusive being offered by Fugitive Toys during SDCC at booth #334. This pre-launch figure will only be available here and not be included in future releases, so collectors take note!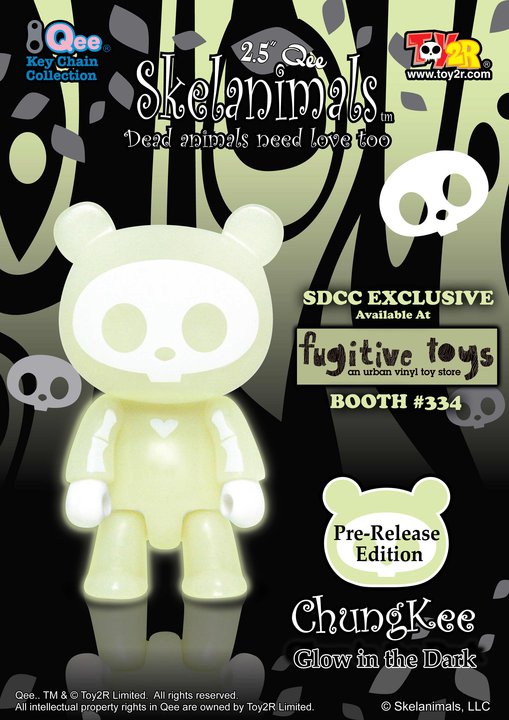 The Apex crew will be at SDCC getting our first peek at this amazing lineup.  Hopefully you will too but if not, don't miss out on having this amazing collection for yourself.  To pre-order, contact us here.
Skelanimals x Qee – waking the dead to have some fun…won't you join us?