Jon-Paul Kaiser's 8" Zombie Pirate Qee
Posted on by Darren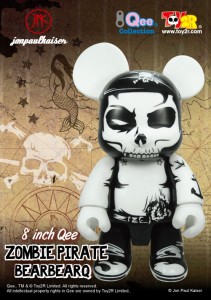 "This piece is FRIGGIN' AMAZING!!" -me
Yes it's hard to believe I'd get all worked up over a piece which clearly lacks in intestinal fortitude but that's exactly it… just LOOK at how beautifully those intestines succumb to the forces of rotting flesh and gravity.  JPK has been on a winning streak, batting a solid 400+, and watching this exceptional piece run from concept to proto to reality has been breathtaking.  I've even heard that this master of b&w surrealism has devised a new painting technique that allows his characters to express themselves aromatically!  Look out olfactory!!  Of course, if this is true, I think we had better start praying that Jon-Paul starts pushing into food or flower related works… I can only imagine what a warehouse full of these things would smell like.
Speaking of which, even if they did produce zombie pheromones, it won't be a problem that we will have to deal with!  The Zombie Pirate Qee is strictly limited to 500 pcs and pre-orders have been phenomenal so they won't be putrefying our warehouse for long.  These ship bound brain munchers will be sailing out of here before you can walk the plank!  Contact the Apex sales team ASAP to secure a few for your treasure chest.  The ship is setting sail at the end of Sept and I doubt there will be a second coming!
"Ahoy Maties! Prepare yourself for a voyage like none other as Toy2R invites you along with JonPaul Kaiser and his 8" Zombie Pirate Qee. Be on ye guard though, ya shouldn't turn yer back on him. Begad! He's a zombie!

Taken from an original illustration submission, this piece will mark the first of several new 8" Artist Qees Toy2R has planned for release. JonPaul's sea-dog style is unmistakable and is captured in full detail. Limited to only 500 pc worldwide and an SRP of $65 – this is a treasure you won't have to dig for! Blimey!
Setting sail and plundering its way to your nearest port, the Zombie Pirate will hit shores next month. Apex Trading Company is currently accepting wholesale pre-orders for this swag. So place your orders now to insure this seafaring blaggard doesn't escape!
The Qeevolution continues to roll on….Fair Winds to Ye!"
Original Post from Toy2Rusa.com
Get yours now!  sales@apex-z.com