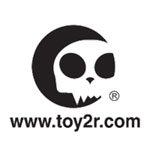 TOY2R (Holdings) Company Limited
Created out of an obsession for art toys and collectables, Hong Kong based company Toy2R continues to break down the boundaries between product design, art and graphics.
Mastermind Raymond Choy founded the company in 1995 when he took his dream of a once owned toy store known as 'Toy R' (Short for Toy Raymond), which held countless quantities of limited edition toy collectables, and turned it into an internationally recognized company. Toy2R was amongst the first to explore the potential of the designer toy, ultimately, instilling contemporary art into the vinyl toy market we all know and love today.
Toy2R Spring Catalog 2012
Toy2R Back-Stock Catalog